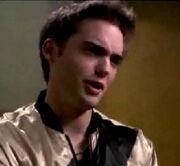 Pip is the son of the owner of the apartment building in which Wendy Watson, Lacey Thornfield, Noser, Anvil, and Joe 90 live. He, like a majority of the building's residents, is an artist. He is most well known for his spoken-word piece "Hey Mr. God," which he performed at the most recent Art Crawl. Described as a "two hour plus spoken word opus", the piece is considered incredibly boring and poorly received by everyone other than Pip. It contains a section about gym class and involves spitting on the crowd, though Lacey intimidated him into dropping these elements in his Art Crawl performance.
Very recently he broke into Wendy's illegal sublet and took digital photos of all of her paintings, and willingly admitted that he was passing them off as his own. He threatened Wendy and Lacey that if they took action against him, he would tell his father about their sublet, and get them evicted. Wendy decided to take no action but the Middleman, with the use of a truth bomb got Pip to admit the truth on camera. ("The Boyband Superfan Interrogation")
Pip later needed to track down Noser, who was three months behind in his rent, and strong-armed Lacey into helping him. The two discovered that Noser was a retired ventriloquist, and Pip recorded Noser's performance at a Grand Championship. Though Noser paid Pip the rent plus interest out of his winnings, Pip still planned to put the footage of Noser online. Lacey kissed him to get him to give her the memory card, then slapped him when he asked if she wanted to "do some more good".
Hey, Mr. God
Edit
Hey, Mr. God, what about all the poor people? 
Hey, Mr. God, someone sure has a high opinion of himself.
Hey, Mr. God, what about all the pretty girls and their prettily painted toenails?
Hey, Mr. God, you ever hear of a little thing called the Internet?
Hey, Mr. God, what about me?!
--The final lines of "Hey, Mr. God" as seen in the The Flying Fish Zombification.
Community content is available under
CC-BY-SA
unless otherwise noted.